Major fashion houses are increasingly looking to blockchain to improve sustainability in the fashion world. Why? Put simply: fast fashion. The industry has taken a pounding in recent years from environmentalists, human rights organisations and business leaders who are increasingly outraged by the water pollution, unfair working conditions, microplastics and waste that are damaging the planet. Too often, worker rights in developing countries have been ignored to satiate the demand for new clothing.
Despite the media stories and exposes – most notably around the Rana Plaza factory collapse in 2013 – the lure of buying new clothes and accessories for every occasion has proved too strong, especially for Western societies. Social media puts pressure on users to wear something special on a night out, while direct marketing and next-day delivery ensure that spot decisions are rapidly turned into transactions. The packaging is thrown into a landfill, while the garment is crammed into the back of the wardrobe.
Transparency for the fashion industry is no quick fix. If one imagines the sheer number of different connections and stakeholders involved in sourcing materials, shipping them to site, manufacturing, retailing, packaging and marketing – it's no great shock to learn that an item's environmental and social footprint is immense. In truth, many brands only have a line of sight to those closest to them in the supply chain – not the other numerous links in the chain – meaning that influence and also accuracy around provenance is a monumental challenge.
But this is a challenge worth solving. According to a study from McKinsey, 75% of customers consider trust and transparency to be an important purchasing factor. Ignoring that majority risks losing them to a competitor that has done their due diligence. Even then, understanding the supply chain may not prove enough to persuade customers of your green and ethical credentials. Brands must increasingly take action and publicly innovate to ensure that there is no negative impact on the environment or communities contributing to their clothes. Technology – and particularly the use of data science and blockchain solutions – offer a way forward for conscientious brands with an eye on the future.
It needed something seismic to turn the fast fashion juggernaut. And few events have proved more disruptive than Covid-19. The pandemic docked container ships, padlocked factories and shuttered shops. Change came to the fashion industry at a traumatic pace. But, of course, it's not just fast fashion that felt the impact. The whole manufacturing industry – which amounts to 16% of global GDP – took a blow to the solar plexus.
The lockdown may have brought disposable fashion to a grinding halt. But how quickly will consumers return to their buy-and-bin habits of the past once they are let back outside for good? Or has several months stuck indoors shown how much excess stuff and clutter we have in our lives – and how much we can save by making more of our current possessions? Perhaps it is simply wishful thinking from a sustainability and ethical perspective, but could the long-term business model of disposable fashion be under threat if enough customers choose to buy better quality clothes that are made to last by local manufacturers?
Where can blockchain be used to promote traceability?
Moving forward, greater traceability may help to mitigate the risks of opaque and inefficient supply chains. And brands are increasingly looking to technology to reassure consumers about the provenance of their products. Companies big and small in the luxury goods sector are starting to harness the commercial benefits of transparency. Through the interaction of blockchain, NFC and IoT technologies, they can create a unique digital identity for every garment, helping to give luxury brands the confidence to stand behind the goods that bear their name.
By surfacing the lifetime journey of fashion goods, counterfeiting can be combated while supporting fair working conditions and ethical sourcing of raw materials. Furthermore, each product can have its ownership registered on a blockchain platform, where every transaction is securely recorded and made accessible to end consumers via their smartphones.
This solution is poised to drive high engagement and develop re-commerce even further. Equipped with transparent and trustworthy information, customers can buy, collect and sell items on with 100% certainty that every piece is one-of-a-kind, sourced from sustainable fabrics and made by people who take real pride in working for the brand.
If the industry does rethink its values, then trust should be at the top of the list. This goes much further than separating a designer handbag from a back-street fake. Customers want to know without a doubt that their item conforms to the highest ethical values. For example, can the brand prove that all its workers are properly compensated? Can all the raw materials – especially animal skins and precious metals, diamonds and gemstones – be traced to non-conflict, sustainable sources? Saying so doesn't make it so. The burden of evidence is with the manufacturers.
The environmental footprint of brands has quickly become a source of competitive advantage. Tracking raw materials usage, waste and water management, and proper use of chemicals are part of the brand story. Fast fashion cycles and growing branding expenditures mean fashion houses are increasingly finding more sustainable ways to differentiate their brands. When products from a fashion label are counterfeited, reputations built on craft, origin, and quality are inevitably tarnished.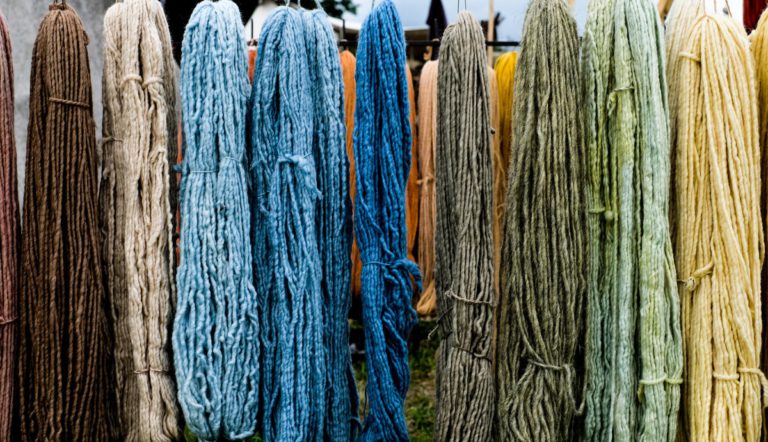 What is blockchain technology in the fashion industry?
Blockchain's security and anonymity can help to power authenticity. The luxury empires and the smallest of Maisons stand to benefit from increased trust, gained through a clearer picture of the life history of every product. This provenance can help form consensus and mutual trust in a contentious world and even drive re-commerce.
Evidence shows that brands that inject transparency into the positive effects of their sourcing practices better connect with future customers. Everledger helps to surface these insights for greater supply chain visibility and an authentic back-story for consumers to access via smartphone interaction with any garment.
With the Everledger Platform, retailers and consumers can activate a garment's item history that's reflective of distribution, production, and base material sourcing. In addition, they can build confidence in claims of origin, legality, environment, and human rights with transactions immutably recorded on the blockchain.
For suppliers, the Everledger Platform allows all stakeholders along the supply chain to see the lifetime story of an asset — from origin to sustainability metrics — by tracking ownership of its digital identity on a private blockchain. This makes supply chain information easier to verify and demonstrates product claims as a secure, unalterable record. As a result, our customers can save time and paperwork with traceable, audit-ready data that makes compliance more efficient – and meet changing demands and buying behaviour by making materials with verifiable provenance easy to discover.
Everledger helps brands create item-level identities and works with system integrators to identify those materials, garments, and luxury goods throughout the supply chain to continually reconcile that the physical object and its digital record are indeed the same. In addition, mobile device interaction with intelligent labels provides insight into origin events that are accessible only by scanning that specific garment.
Blockchain fashion can encourage traceability and transparency
By increasing visibility throughout the supply chain, our solutions help partners in the fashion industry to verify and protect the value of assets – and the brands that put their names to them. Here are some of the benefits:
Gain a unique identity. Through blockchain, NFC and IoT technologies, our platform creates a unique digital identity for every product – that's secure, immutable and private.
Foster trust in your brand. Our technologies give brands the confidence to stand behind the goods that bear their name. We are ISO27001-certified, evidencing the highest level of trust in information security and data protection.
Make transparency a strategic asset. By uniquely surfacing the lifetime journey of luxury goods, we help combat counterfeiting while supporting fair working conditions and ethical sourcing of raw materials.
Differentiate in your market. By generating confidence in their brands, our partners can stand out and create new value for retailers and end consumers.
Raise the value of ownership. Each product has its ownership registered on our private blockchain, where every transaction is securely recorded and securely accessible to end consumers.
Meet expectations for sustainability. Our platform increases visibility and control over-responsible and ethical sourcing throughout the supply chain.
Everledger has put this into practice with MCQ, a fashion label that was relaunched last year by Alexander McQueen. The label harnesses blockchain and IoT to demonstrate its sustainability commitments and unite customers around shared passions: sustainable luxury fashion, authenticity and re-commerce.
MCQ has designed the unique MYMCQ concept, a blockchain-powered tech platform implemented by Everledger, enabling designers and consumers to securely register and trade items of clothing designed by a hand-picked selection of designers. Everledger's technology enables the creation of a secure and permanent digital record of each clothing item on the blockchain.
Buyers or fans of the brands can discover all they need to know about an item with one swipe of their phone. Who made it? Where were the materials sourced? Who owned it and then resold it? By creating a unique peer-to-peer marketplace, fashionistas gain a private space to browse and discuss their favourite designs. By encouraging resale, the platform also lowers the carbon footprint of each item and extends its lifetime journey.