A blockchain platform for transparency and traceability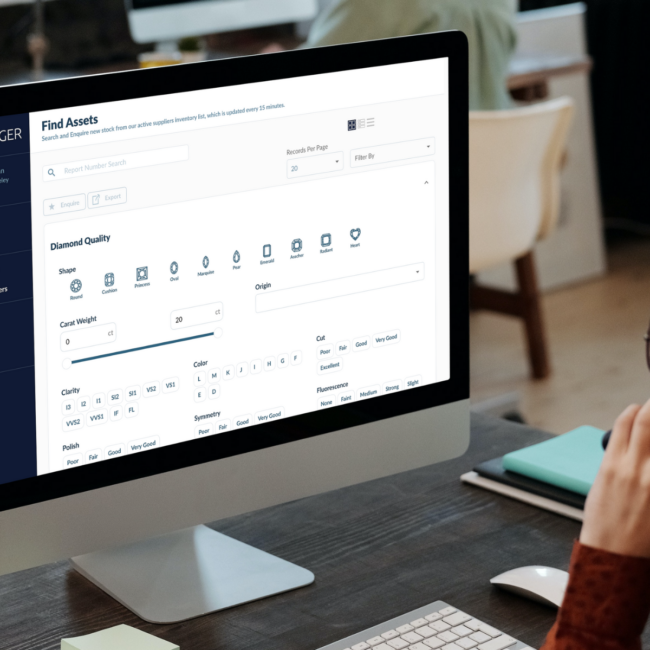 2.0 (Release date: April 2022)
Lab-grown diamonds now on the Everledger Platform
With new, lab-grown diamond provenance reports available for discovery on the Everledger Platform, retailers can discover and display events around carbon seed origin, growth, and an enhancement to the grading event that identifies the stone as being lab grown instead of mined.  A departure from supply chain events associated with mined diamonds, the 'Growing & Cleaning' event includes details around the technology used to grow the diamond, such as chemical vapour disposition (CVD) versus high-pressure high-heat (HPHT). The 'Enhancement' event includes information on added HPHT processes or irradiation. 

In future releases, purchasers can easily analyse the lab-grown process by viewing time-stamped events that are captured on the blockchain and retailers can more reliably demonstrate sustainability claims made with that data captured, such as the use of renewable energy in the creation of diamonds.
Everledger Provenance Widget
Tailored to display relevant inventory
With a straightforward Javascript bundle that can be easily customised, e-commerce sites can now embed a widget from Everledger that displays the provenance data and transformation events for any object on the Everledger Platform. 
A basic template today for both diamonds and gemstones is available to display origin, planning and cutting, and certification details. All that is needed to get started is to identify the digital asset IDs on the Everledger Platform and provenance details relevant to the brand experience for an API widget that's site specific. The Everledger Provenance Widget that's used in one's own site to display relevant inventory is tailored for a given brand and is not able to be copied and applied within another site.
Retailers and marketplaces can now offer links to provenance reports for any object as it's displayed either within the Everledger Platform or on Provenance Proof, another open source blockchain platform by Everledger. Previously, the only way to access provenance information around objects on Everledger's platforms such as diamonds or gemstones requires authenticated log-ins or API calls. With growing integrations of online marketplaces and aggregators however, producers can determine the inventory they wish to make publicly available. Public links widen a producer's reach and help to set their inventory apart with origin, compliance, and sustainability data. 
Now within the Everledger Platform's Identify feature (a progressive web app for blockchain-backed product authentication), consumers of participating products can easily sign up for their own Vault by confirming their email address. Without the need to be onboarded to the platform itself, anyone can now store within their Vault the digital ownership of objects which they can also transfer to anyone else to support peer-to-peer trading and secondary market transactions. The Vault can be accessed either by web address or directly by tapping an object's NFC symbols or scanning its QR code.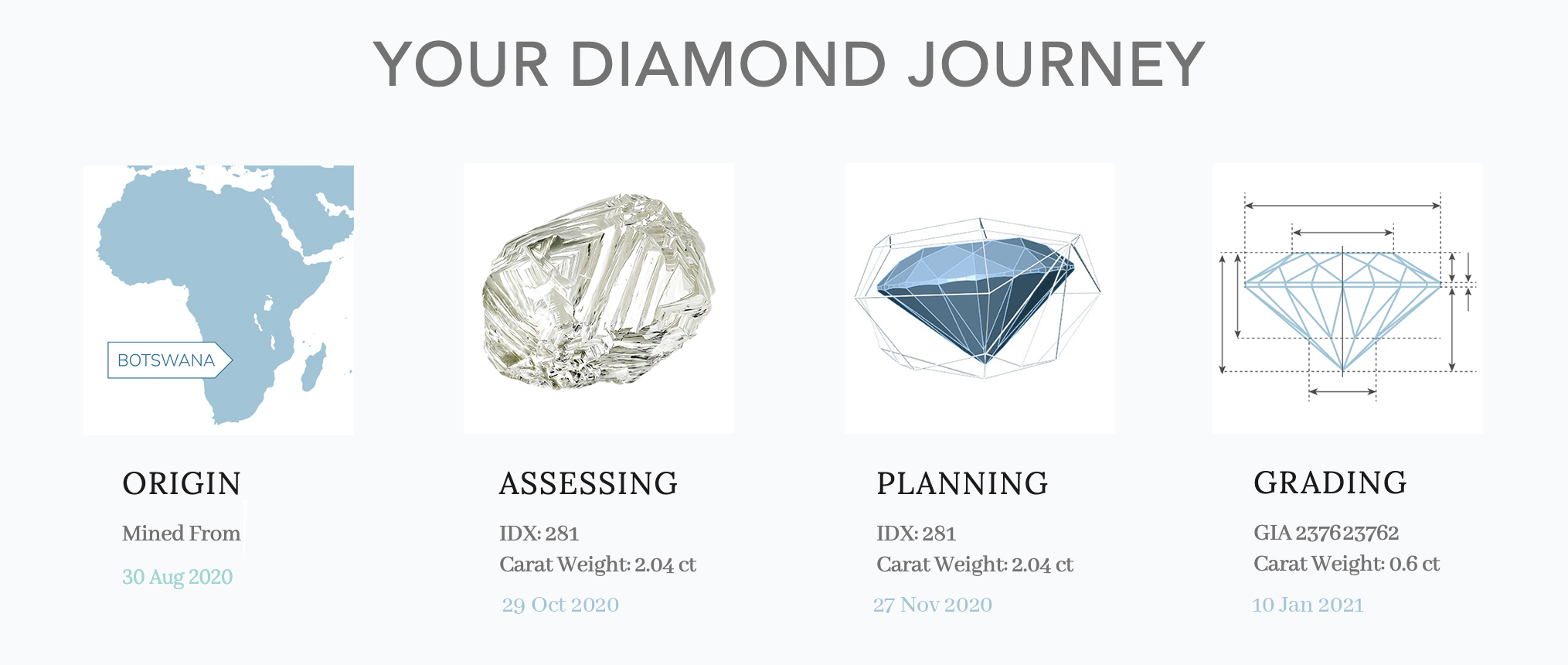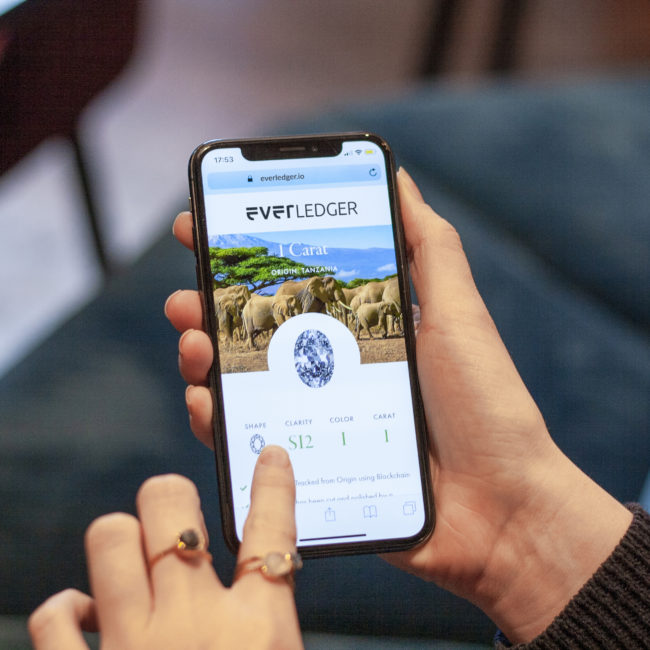 As the blockchain provides for an audit trail of persistent object identity over time, the Everledger Platform is as much an exchange of assets with immutable provenance data as it is a repository for that data. Today, people can now filter search results to display either all assets or only those that are available for sale, a complete view of all the available stock from all suppliers versus a long-term registry of diamond data on the blockchain. 
Make accurate storylines of provenance easier than ever to tell
New feature release: Everledger Identify
Authenticate, transfer, and track products by creating unique object IDs and custom digital experiences accessed with mobile device interaction. Beginning in April 2021, manufacturers can provide clear evidence of production details for object-level provenance records added to the blockchain as a part of the Everledger Platform.
Within this first version, intelligent labelling is incorporated in the object, where downstream participants can access records with mobile devices.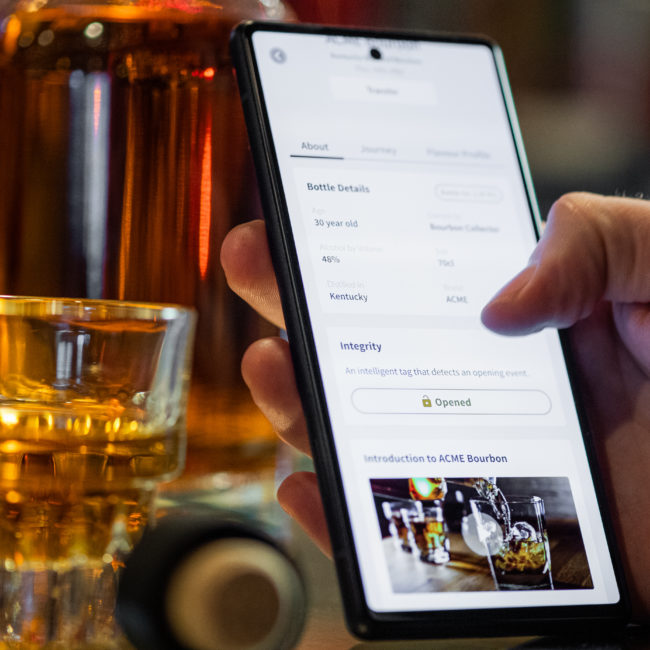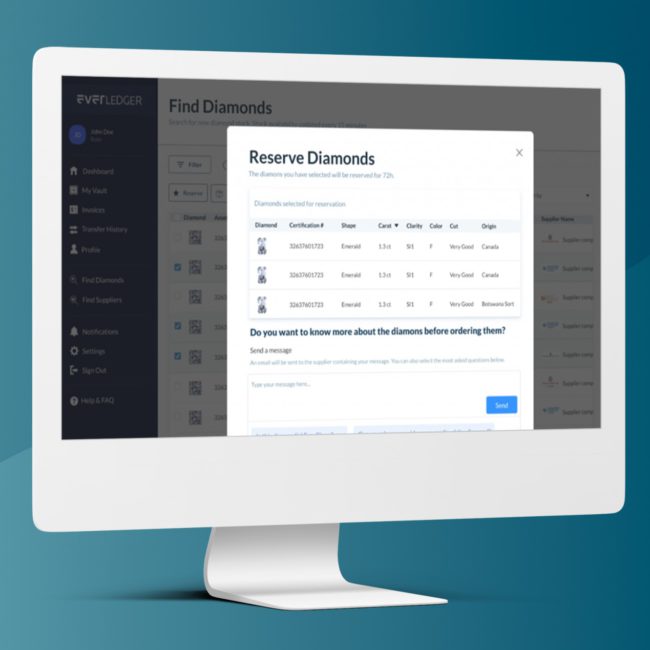 Everledger Platform Feature Enhancements
In March, we introduced some updates to the Everledger Platform that add convenience in the discovery and inquiry of objects with provenance.
Feature Enhancements for Web 3.0 Brands
By bridging virtual technologies and the real world, the Everledger Platform helps brands to better connect with consumers through their digital lives. For emerging technology-focused consumer labels such as MCQ, Everledger enables both designers and consumers to securely register and trade clothing.
As a tech-integrated streetwear label, garments within each distinct collection have blockchain technology embedded in the tag, which can be tapped with a smartphone to confirm the authenticity of the item and register it to a digital wardrobe. MCQ also functions as a 'cultural accelerator and global community of creatives,' where an exchange of ideas provides for an open editorial platform, where collaborators and collectors interact to evolve the label.
In what originally launched as a mobile experience for object-level authentication at the point of sale, MCQ has grown into a community of shared interests with a growing number of participants preferring trusted interactions from their desktop. This month, all of the experiences once optimized for mobile-only are now equally accessible from all other devices.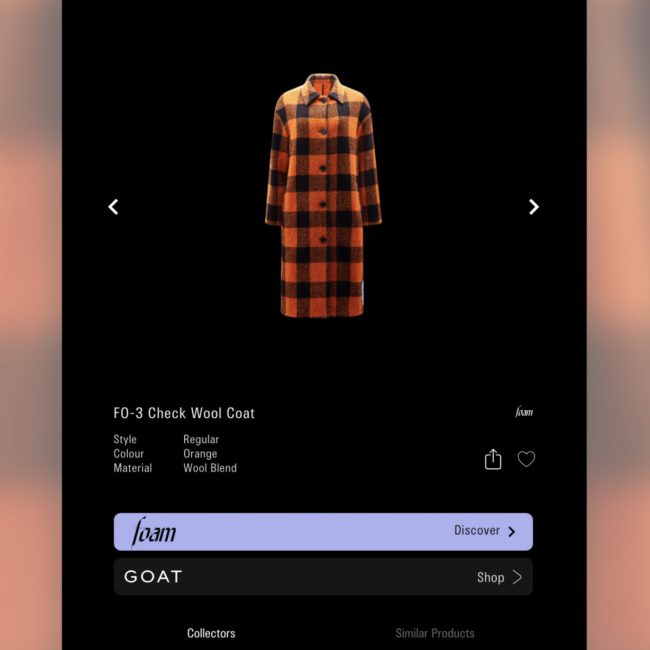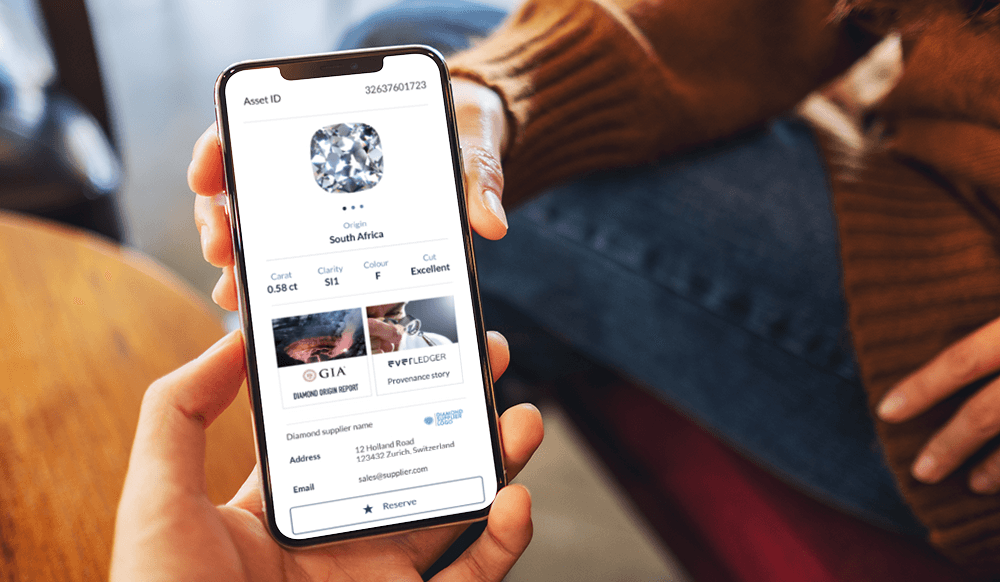 SMS integration for community events
Everledger's integration with SuperPhone goes beyond two-factor authentication and customer onboarding with its support of registering community members for invite-only events. For MCQ, regular releases of collections, or 'icons,' are live celebrations on Zoom, with exclusive access to musical performances accessible only to the MCQ community.
With the Everledger platform, businesses can substantiate claims about a product's origin, supply chain, and production practices. By making asset information easily accessible and verifiable, and utilising the best modern technologies to do so, the platform enables supply chain actors and consumers unprecedented transparency and trust around the origin, characteristics, and authenticity of their purchase.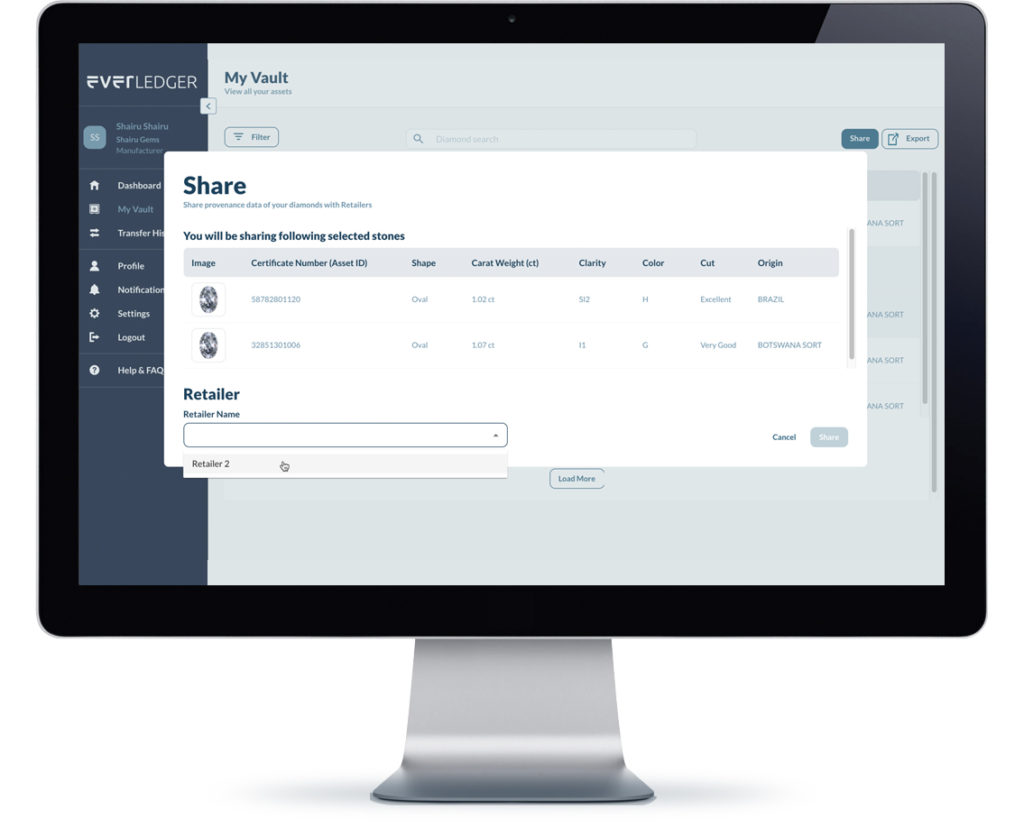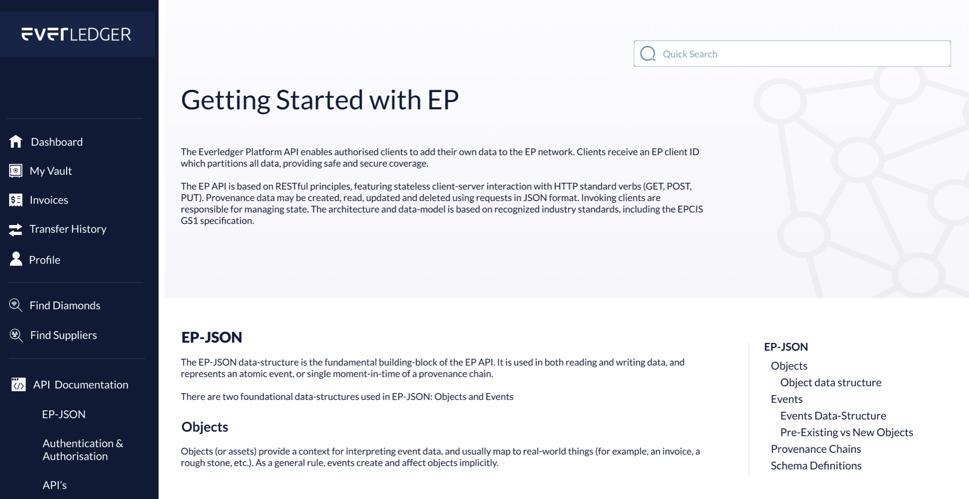 Everledger Data Pipeline (EDP) – For Data Providers
EDP allows data providers to submit data to the EP system by either JSON format, or a file (CSV), which is detailed within the Data Ingestion API. This data can be then pushed to Everledger Platform, e-commerce sites, mobile apps, or ERP systems. EP is presently able to validate and process 24,000 stones per day. Developer tools will be centrally located within EP.
Optical character recognition & data validation
Efficiently analyze data sets and meet documentation requirements with advanced optical character recognition (OCR) capabilities. Everledger will provide some minimum checks for all assets added to the blockchain to demonstrate a legitimate sale per international norms and international trade regimes.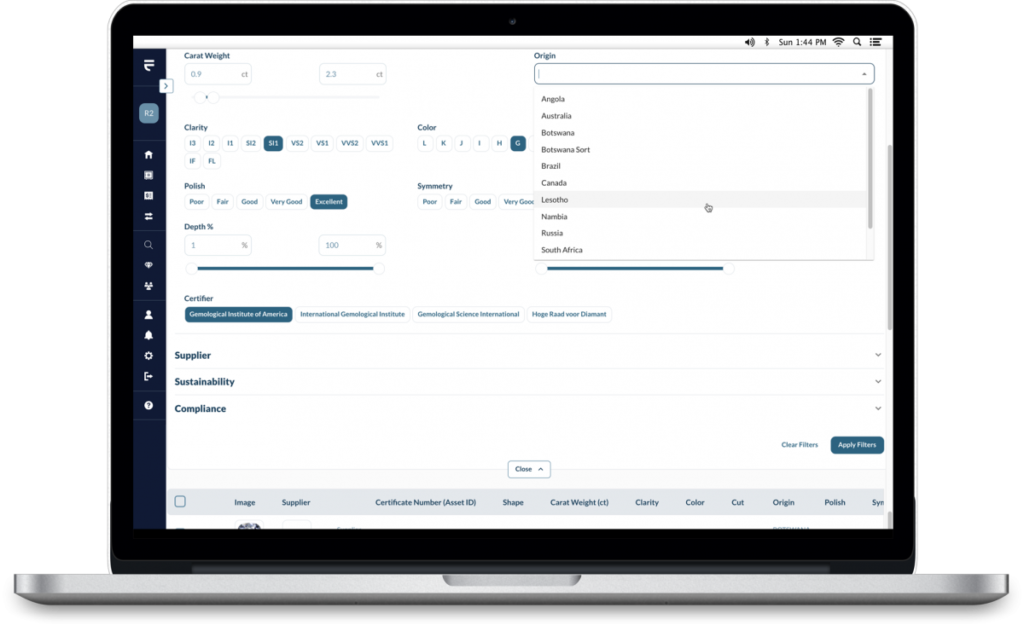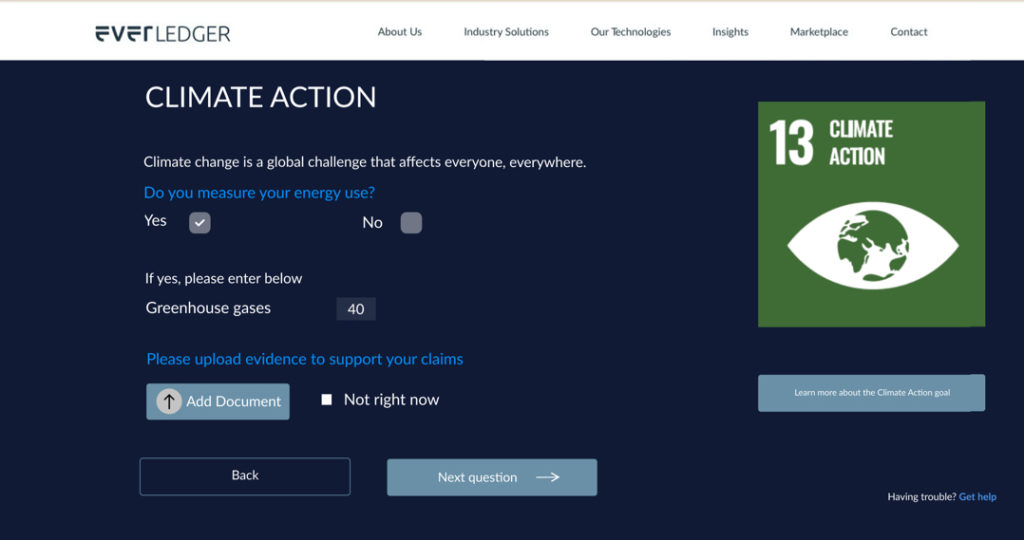 The Everledger platform brings to the diamond industry a clear line of sight and the validating power of the blockchain so that suppliers and retailers can more efficiently respond to consumer expectations for transparency and trust. Within this first release of EP, people can upload data around their diamonds, and others can explore that inventory, transfer ownership of a diamond's digital twin, and show its full provenance record. Discover in this section how profiles are set up, analytics are accessed, and the platform is generally used.
Within the organization's Vault are the 'digital twins' of each diamond, either uploaded or purchased, where forensic data, provenance events, and certifications are kept.
The transfer of ownership of a diamond's digital twin and provenance record is made from the supplier's Vault and into the Vault of a retailer. This change in custody is recorded on blockchain and is what provides for an authentic and accurate provenance story for each gem. Retailers are alerted to successful transfers by email notification, with an invitation to access their Vault. Similarly, retail jewelry customers are invited to access their own vault on the Everledger platform upon a diamond's purchase.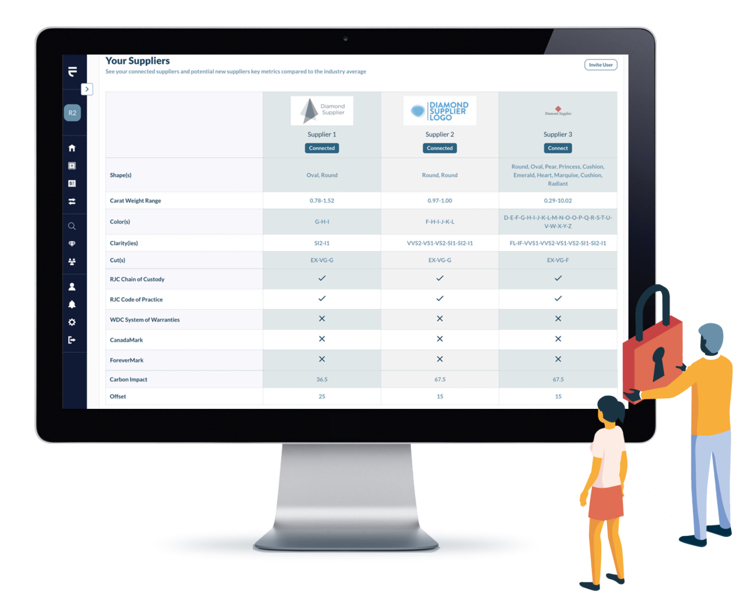 Request More Information?