A marketplace for blockchain diamonds with verified provenance and sustainability claims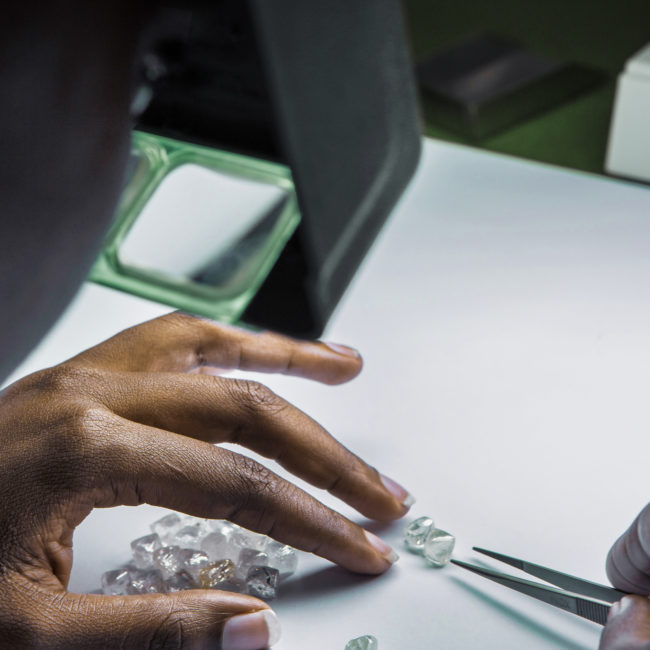 Use the Everledger platform to easily discover retail buyers who are seeking new sources of value, and be rewarded for your investment in sustainable and ethical business practices.
Contributing diamond data is streamlined. Share the compliance documentation, origin, planning, and cutting events of each diamond. With an established API interface and manual process, suppliers can choose the data onboarding option that's right for them.
Control who sees what. Access control lists allow suppliers and retailers to determine different rights for their data on the platform.
Efficiently manage shared inventory. Securely share visibility of the same stones with retailers and trust that availability is universally updated when transfers of ownership occur.
Connect with suppliers that meet your compliance and sustainability requirements. Choose from melee, lab grown and conflict free diamonds to protect brand reputation. 
Go beyond the '4 C's' and add compliance, country, and confidence as entirely new dimensions of value.
 Have greater visibility into your suppliers. See overall inventory, sustainability metrics, and diamond compliance at a glance.
Confidently assert claims made. Leverage an immutable audit trail to substantiate certificate claims with third parties.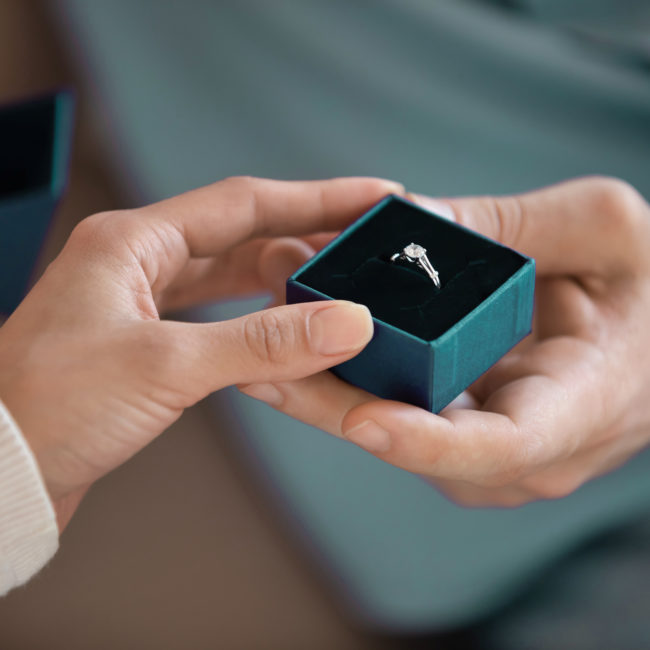 "We are excited to be able to offer Rock Solid Diamonds to our customers, as part of our on-going commitment to responsibly sourced and transparent jewelry supply chains."
KIRSTEN DARROW
GROUP VICE PRESIDENT — FRED MEYER JEWELERS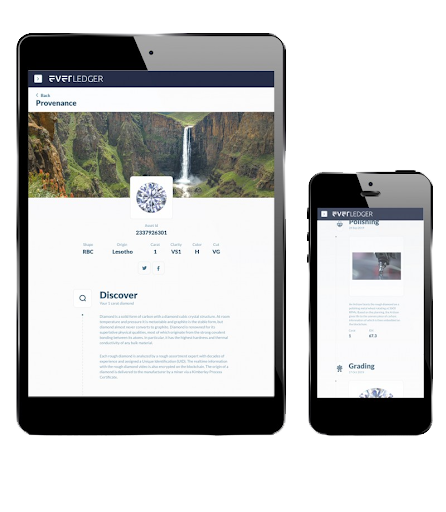 With a complete provenance history around each diamond, there's a lot more to show around the diamond, including, origin, allotment, rough state, planning, cutting, polishing — and certification. While this is all information that diamond suppliers readily document, never before have retailers had access to authentic stories and validation of origin that demonstrate rarity around each diamond.
In showcasing certification data within the provenance record, jewellers can provide the most complete picture possible either in-store or online.
GIA Diamond Origin Reports
The Everledger platform now makes the GIA Diamond Origin Report (DOR) widely discoverable and easy to display with one click. In addition to a scientific rough to polish match that verifies origin, now integrated from the DOR are education materials on the people and places that helped create each diamond. Simply message suppliers within the platform for terms and transaction details.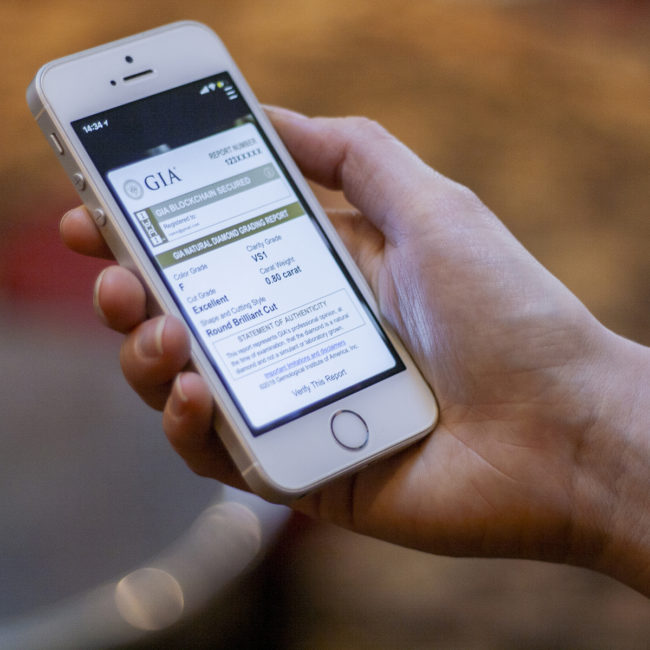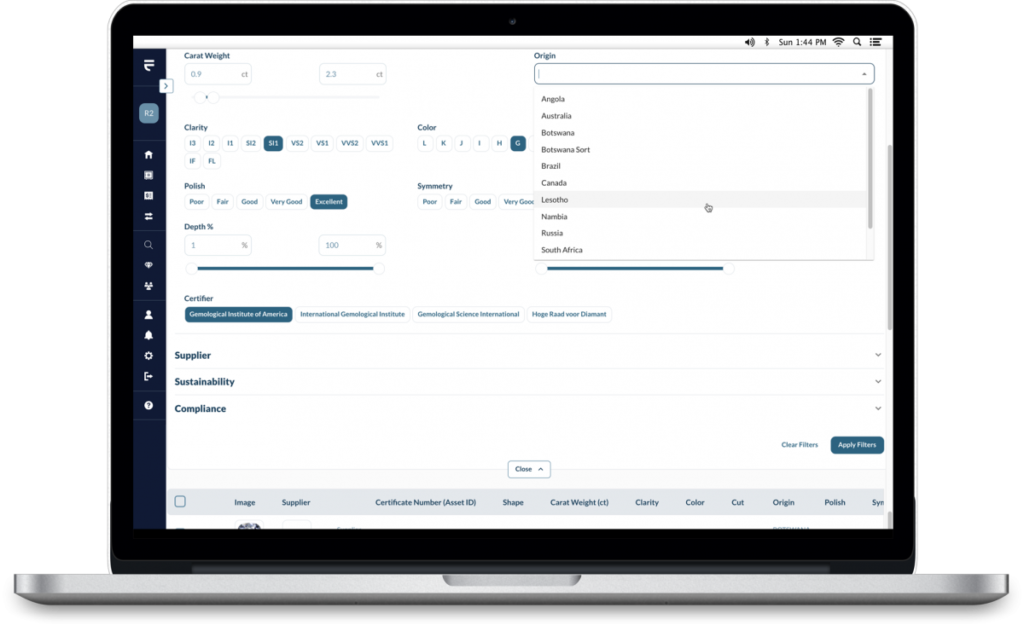 Use Everledger Amplify for provenance records on your site
As new generation diamond consumers become less inclined to pay traditionally high prices, the way in which diamonds are produced, distributed, and sold is changing. 
Everyone in the value chain benefits from the ability to connect, discover, and demonstrate diamond value with blockchain-backed provenance records — or a diamond's 'digital twin'— alongside physical and virtual inventory.

Making the commercial case for blockchain diamond tracking
The diamond industry has reached a broad consensus that greater transparency is the right thing to do, with blockchain diamond tracking one of the key ways to achieving that end.
As industry leaders have agreed on the need to eliminate conflict stones, improve worker rights along the supply chain and take a more sustainable approach to environmental impact, full track and trace methodologies, of which digital twins stored on the blockchain for each stone could be considered a key enabler, have become the golden industry standard.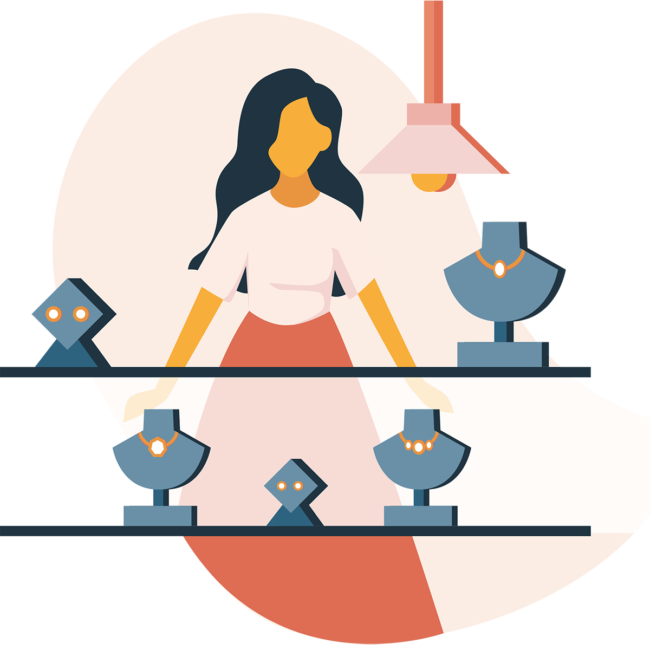 Request More Information?