A verified marketplace for assets with blockchain-backed authenticity and provenance.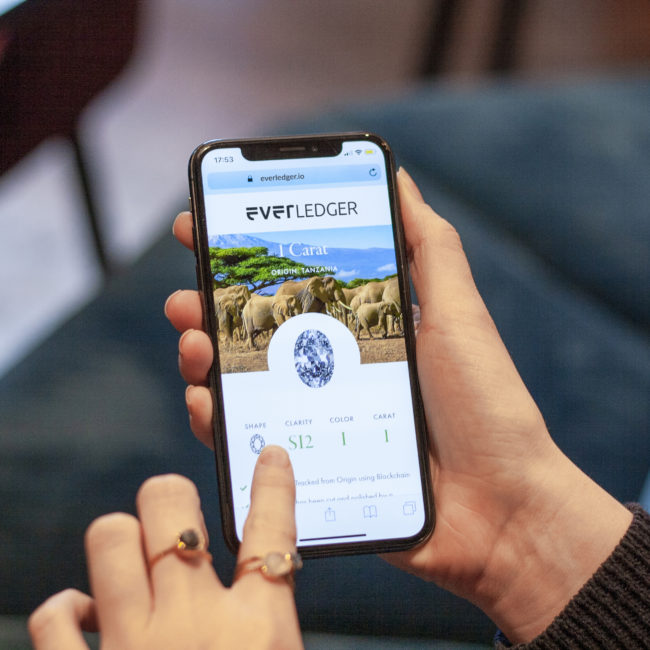 Contribute and discover verifiable provenance data
Unbox the lifetime story of any product
By leveraging blockchain and IoT, manufacturers, certification houses, and retailers can evidence the origin, ownership, and characteristics of the products and materials they trade. With access to an asset's provenance record from any device, Everledger Capture enables everyone along the supply chain to build more trust in their business.
Today retailers use it to discover assets such as diamonds by origin, environmental performance, and legal chain-of-custody (criteria previously inaccessible at scale for diamond buyers). Now with an enterprise-grade blockchain platform, buyers and sellers of any kind of assets can now trade with confidence.

"We needed the most up-to-date technology to give ... full access to the diamond's story. And the Everledger Platform brings this clarity to the market, together with GIA's brand recognition and tradition in the industry."
— GHANSHYAM DHOLAKIA, FOUNDER AND MANAGING DIRECTOR, HARI KRISHNA EXPORTS
Use Capture for enhanced supply chain visibility
With Everledger Capture, you have a clear line-of-sight that runs from tiered suppliers and manufacturing all the way to end consumers. Start sourcing elusive assets, validate that something is what it says it is, upload data to substantiate claims that you want to make, connect with suppliers and retailers or transfer ownership of assets, and dig into analytics.
As a supplier, you can easily discover those buyers seeking new sources of value. As a retailer, you can be confident that suppliers meet your purchase criteria for compliance and sustainability, thereby protecting your brand's reputation with substantiated claims.