A growing number of opportunities
Everledger was recently featured in the Forbes Fintech 50, which showcases the most innovative fintech companies in 2020. "What is notably different this year are some… new applications of blockchain that don't involve cryptocurrency at all", commented Forbes. "[For example,] Everledger has developed a blockchain to track the movement of goods from raw materials source to sales, with its first application tracking diamonds to make sure they don't come from conflict zones. [The firm is] now expanding to track cobalt, having signed pilots with the U.S. Department of Energy and a battery trade group in New Zealand."
Everledger contributes to the OECD Blockchain Expert Policy Advisory Board (BEPAB), which aims to help publicise and explore the policy implications around blockchain in various areas, including health, transportation, agriculture, environment, and supply chain management.
Business leaders across the diamond value chain recognise the role that blockchain asset tracking can play in helping to eliminate conflict stones, improve worker rights and take a more sustainable approach to ecology, carbon management and the circular economy. On behalf of our clients, Everledger uses a symphony of different technologies, including blockchain, AI, IoT and nanotechnology, to create a digital twin of every diamond: a secure and permanent digital record of an asset's origin, characteristics and ownership (read more on asset tracking software).
Our solutions are built on advanced technology and deep industry knowledge rooted in corporate citizenship principles. We work together with partners to increase their value – more responsibly, more sustainably and more efficiently.
By comparison, the precious gemstone industry is a more decentralised industry, with more than 80% of gemstones – such as emeralds, rubies and sapphires – mined by small companies or individuals. An immutable blockchain ledger can help to aggregate evidence of a gemstone's story, such as origin, quality and custody, allowing stakeholders to buy and sell with greater confidence (read more on asset tracking software).
Everledger is ISO27001-certified, evidencing the highest level of trust on information security and data protection. We collaborate with the Gemological Institute of America (GIA), the largest gem lab in the world, to provide grading reports for the stones on its own platform, including details about the colour, clarity, shape and carat weight which ultimately informs the value of each diamond.
We also partner with Gübelin Gem Lab – the world's leading gemological laboratory for examining and determining the authenticity of coloured gemstones. Together, we deliver the Provenance Proof Blockchain to improve traceability in the industry. Through the blockchain technology of this platform, coupled with Gübelin's Emerald Paternity Test, it's possible to evidence a stone's birthplace and trace its journey across the value chain.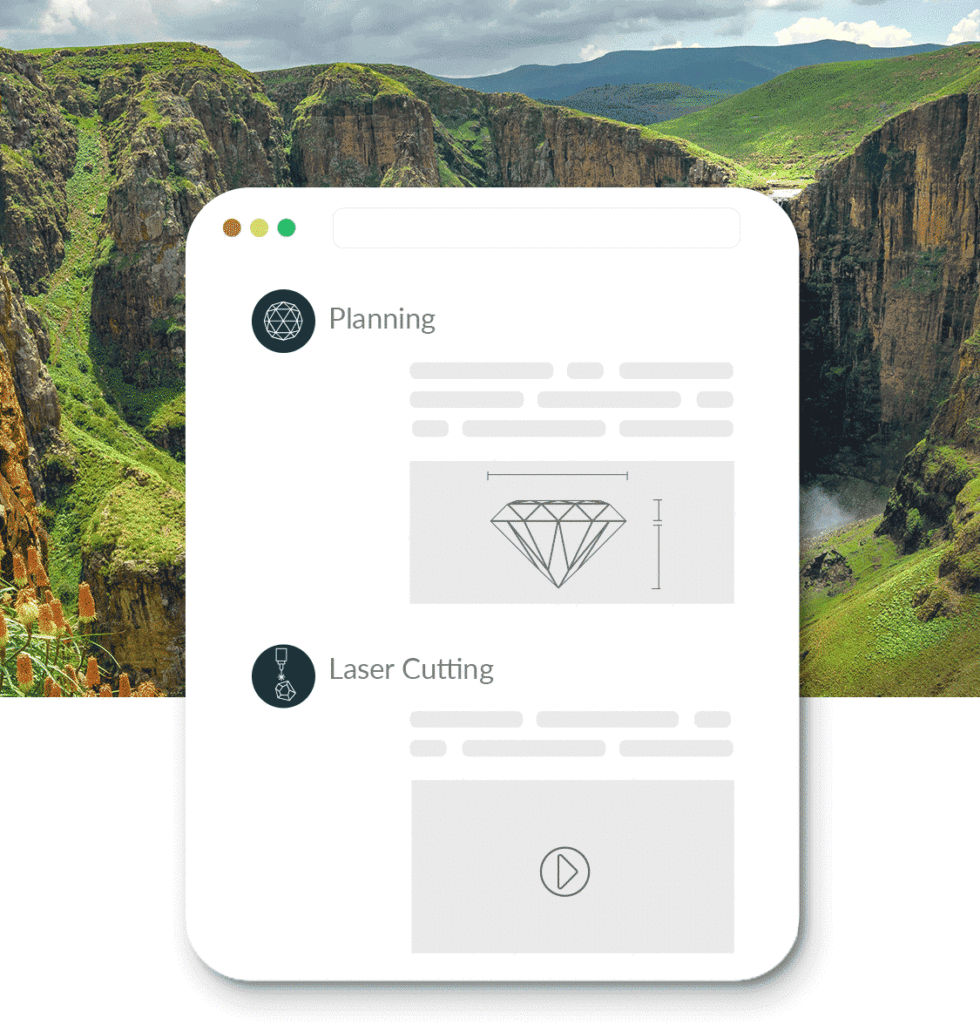 The Wine Industry:
Fine wine is another industry that can benefit from the secure, unalterable qualities of blockchain. Counterfeit wine is a growing challenge, especially in Asian markets. As much as half of all French wine sold in China is believed to be fake. Worldwide, nearly a third of all alcoholic drinks are mislabelled, counterfeit or fake, according to the International Center for Alcohol Policies.
Winegrowers large and small bear the greatest responsibility in upholding their brand, yet they also have the least amount of visibility into their supply chain. When the barrels or bottles leave their gates, there is only so much they can do to protect their legitimacy.
Help is at hand. Every genuine bottle must pass strict geographical certification procedures to establish its authenticity. Therefore, if this information can be captured and then made readily available to traders, collectors and buyers, the risk of counterfeit can be eroded. In addition, brands can market the undisputed authenticity of their wines as a USP.
Everledger helps clients to create a unique digital identity for every bottle, using blockchain, near-field communication (NFC) and IoT. We work closely with customers all along the supply chain, from growers to merchants and into broader retail, with the goal of building ever more authenticity in the global industry. Until now, the industry could only identify a counterfeit rather than certify an authentic bottle. With blockchain-enabled certification, growers and brands can take back control of their craft.
Everledger was the first to secure a bottle of wine's provenance on the blockchain. We are also collaborating with Avery Dennison, a global leader in intelligent label solutions to develop end-to-end traceability and provenance solutions for the wine and spirits industry. This partnership – launched first with 'Appellation Earth' wines from Napa Valley by US-based wine négociant Wine Trade Network – combines Avery Dennison's intelligent label solutions with Everledger's blockchain-based platform.
The highly-secured, non-copy inlays are adhered to the specific bottle labels, giving each bottle a unique digital identity. This innovation enables chain-of-custody data to be captured throughout the supply chain by supporting blockchain technology. From there, the authenticated provenance of the wine is tracked, enabling consumers to discover the lifetime journey of their wine giving them confidence in its authenticity and creating a connection to the overall brand story. All with a tap of a smartphone.
Electric Vehicle Batteries
Finding new ways to make electric vehicle (EV) batteries more sustainable will prove critical for reducing emissions by 30% by 2030, in line with the 2°C goal of the Paris Agreement. Everledger helps clients to achieve traceability and so maximise the life cycle value of products such as portable electronics batteries and EV batteries (read more on blockchain battery recycling). Our provenance-tracking solution drives transparency along clients' supply chains of critical metals and minerals, combining blockchain technology with AI, IoT and nanotechnology to enable traceability in a secure, unalterable and private platform.
The world has woken up to the need for a circular economy. Incentive mechanisms and methods are now needed to further raise awareness and build momentum for change.
Luxury Goods Industry
The luxury goods industry is another that faces increasing challenges around authenticity, sustainability and innovation – all of which have an impact on brand reputation. Counterfeit products are still a prolific issue, with $98bn of losses estimated in 2017, according to the Global Brand Counterfeiting Report in 2018.
The environmental footprint of brands is a source of integrity and also competitive advantage, therefore tracking raw materials usage, waste and water management and proper use of chemicals are key considerations. Fast fashion cycles and growing branding expenditures mean fashion houses must find more sustainable ways to differentiate their brands. When products from a fashion label are counterfeited, reputations built on craft, origin, and quality are inevitably tarnished.
Through blockchain, NFC and IoT technologies, our platform creates a unique digital identity for every product, helping to give luxury brands the confidence to stand behind the goods that bear their name. By uniquely surfacing the lifetime journey of luxury goods, we enable companies to combat counterfeiting while providing a transparent window into their fair working conditions and ethical sourcing of raw materials. Each product has its ownership registered on our private blockchain, where every transaction is securely recorded and accessible to end consumers.
Likewise, the art world must take all possible steps to combat the risk of forgeries. Lack of traceability limits knowledge and confidence, reducing the financial and heritage value of desirable paintings and objects. The global headlines caused by counterfeit revelations demonstrate the importance of authenticity to sellers, auction houses and collectors.
Traditional paper-based certifications are vulnerable to damage or tampering. And as artwork changes hands, authentication often falls to individuals with no common objective standards. The potential for information arbitrage in transactions can result in varying valuations, which are often not settled on an artwork's true value. In worst cases, artworks can be lost or destroyed, robbing the world of priceless culture and heritage.
Again, using blockchain, NFC and IoT technologies, the Everledger platform creates a unique digital identity for every artwork, helping to foster confidence in the origin of an artwork. Our technologies allow artworks and the conditions they are kept in to be carefully tracked and protected as they move between museums and owners. In establishing common benchmarks, formerly subjective authentication can be standardised.
The Insurance Industry
The insurance industry is impacted by the same challenges as artwork, luxury goods and precious stones. Low visibility restricts the ability of brokers to perform to their full potential, hindering efficient pricing and processing. Insurers must often make decisions to accept risk without the crucial information they need. Paper trails of asset data in a disconnected value chain make the insurance journey complex and difficult, opening the door to fraud.
In an age when brand loyalty is low and customer experience is vital, any difficulty in providing information can create friction for customers at the time of a claim. As high value assets change hands, each party needs to know that the asset is real and that they are protected from loss.
By surfacing more accurate information, Everledger can help the insurance industry to function with efficiency, improving the experience for insurer and customer alike. Insurers, retailers, producers and consumers can come together behind a more unified and trustworthy set of asset information. Our solutions seek to automate processes and govern exchanges, to make insurance processes as simple, seamless and low cost as possible.
Better information also allows insurers to price accurately, increasing market efficiency throughout the value chain. Our solutions allow all stakeholders to make informed decisions, claim more easily, and find replacements with similar characteristics to the original asset. With increased visibility, insurers can spot fraudulent claims more quickly, and thus save costs.
Our purpose is to contribute greater transparency, trust, sustainability as well as amazing customer experiences in marketplaces where provenance matters most. We look forward to collaborating closer to this diverse range of industries, sharing the same demand for ever more knowledge and sustainability